8 Ways to Celebrate National Pet Week
Be Kind to Animals
If you're like most pet owners, showing appreciation for the furry companions who enrich our lives and make us happier and healthier is a daily event. That being said, life gets pretty hectic with work, family, and other obligations. Time is not always on our side when it comes to giving the attention your dog or cat deserves.
National Pet Week is May 5th – 11th, 2019. This is a great opportunity to up your game and really focus on celebrating all that your pets bring to your life. It's also a good way of reminding yourself of any veterinary services your pet may be in need of, such as a wellness exam. Here are some suggestions for how you can celebrate with your pet.
Give Them a Gift
Giving your pet something new is a great way to show your appreciation, and it can be a fun experience for pet owners, too. A new toy for your cat or dog is bound to inspire some playful activity. Some new treats can excite your pet's eyes and tummies. Maybe your cat is ready for a new cat tree. Even a new area rug can be something your pet will roll around on and enjoy.
Whether a new treat or toy, bringing something new into your pet's environment gives your pet a break from the routine and creates new interest and excitement. Shopping for a gift and the joy of giving is fun and rewarding for you as well!
Arts and Crafts
Making or buying some type of craft or keepsake is another way you can celebrate with your pet. Some examples of these are a clay paw print, a photo album or frame, or a bandana for your pet to wear. These can be great activities to get kids involved in, and you'll end up with something that will last a lifetime. Not to mention, you will have some really good bonding time with your pet.
Exercise and Activity Time
Our pets are always in need of some good exercise and activity, but this may be a good time to be even more proactive and aware of the amount you give yours. Depending on where you live, you could try out a new park, trail, or mountain to take your dog for a walk. Perhaps take some time for a game of fetch or Frisbee. For cat owners, feather toys and toy balls for them to chase are good ways to provide exercise. These activities are a great way to fight boredom and stay fit — for both pet and owner. Be sure to find an activity that fits your pet's age and fitness level.
Mental Stimulation
Mental stimulation for your pet is necessary to beat anxiety and boredom. Ways to do this can involve teaching them a new command or trick. This goes for your feline companions too, as cats are able to learn obedience commands. Positive reinforcement works well for both canines and felines!
There are also several food and treat puzzles available for pets. These interactive toys are designed to help keep your dog engaged with activity both when you're home with them and even when you're away. You can also feed regular kibble meals in many different types of these puzzles. Just be sure to watch your pet carefully when you first introduce a food puzzle; the idea is to challenge and reward the brain, but not frustrate your best bud.
Good Clean Fun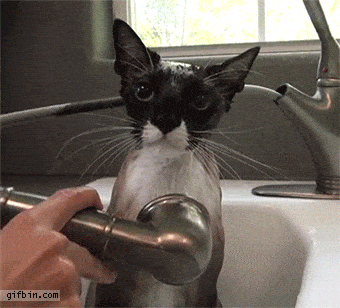 Taking care of your pet's hygiene is probably not the first thing that comes to mind when you think of having fun with your pet. However, your pet's hygiene is one of the most important factors for their overall health, especially when done on a regular basis. This includes things such as brushing teeth, trimming nails, bathing and brushing out their coat. You as the pet owner will feel rewarded knowing you are taking steps to ensure your pet's wellness. If your pet is not used to having these treatments done (especially by you the owner), it's a good idea to contact your veterinarian or a professional groomer to help.
Update Your Pet's ID
Is your pet's identification tag old and worn out? Is the information out of date? This is a good time to check it and make sure all of the information is legible and accurate.
Does your pet have a microchip? Is the microchip information up to date? If not microchipped, this may be a good time to have it done. Or you should make sure the contact information is correct if they are microchipped. These are important items for the safety of your pet and can sometimes get overlooked. If you plan on traveling with your pet, you will need proper identification, and it's important to have any time you take your dog for a walk, go to the park, or go on a hike. A microchip is a great tool to help bring your dog or cat safely home if they do get lost.
Schedule an Exam and Update Preventive Services
If you have not scheduled a routine wellness exam for your pet, National Pet Week is the perfect time to do so. There are many aspects to your pet's medical needs and having an annual exam is a necessity for keeping them up to date. Wellness exams confirm your pet's health and can help detect any health problems early, providing a better prognosis and saving potentially expensive treatments.
Vaccinations and lab tests for heartworm and other parasites are vital to your pet's overall wellness. They help prevent diseases that can be dangerous and costly. They should be up to date to ensure the health and safety of your pet and your family.
Is your pet on any preventive medicines? Are you due for a refill? As part of your pet's wellness exam, your veterinarian can confirm that the medicine being used is up to date with the drug being used, dosage, and frequency, as well as making sure the refills prescribed are correct.
Celebrate Your Pet!
However you choose to celebrate National Pet Week, we hope you have a great time with your pet and that these ideas help provide ways in which to have fun and bond with your pet as well as take care of their health and wellness needs.